Fire Door Inspections and Installations
Fire Door Inspections and Installations
'The bitterness of poor quality remains long after the sweetness of low price is forgotten.'
The correct specification, supply, Installation and maintenance of a fire door are critical and it's the responsibility of every person in the process to get it right.
Fire doors are made up of various components and should be looked as a whole door set. Looking at the fire door and not the full set will significantly reduce the effectiveness of the door.
What are the various components of a fire door?
The door itself is usually made from a solid timber frame, but they can sometimes be covered again in fire-resistant glass. This glass should be able to withstand exposure to the heat condition in a fire test for at least 60 minutes before it reaches a temperature high enough to soften it. The size of the glass and the method of its retention are important factors that influence its integrity. As the temperature approaches the softening point, a large sheet will tend to collapse earlier than a smaller one. The edges of the glass should be protected by a fire-retardant beading seal / putty.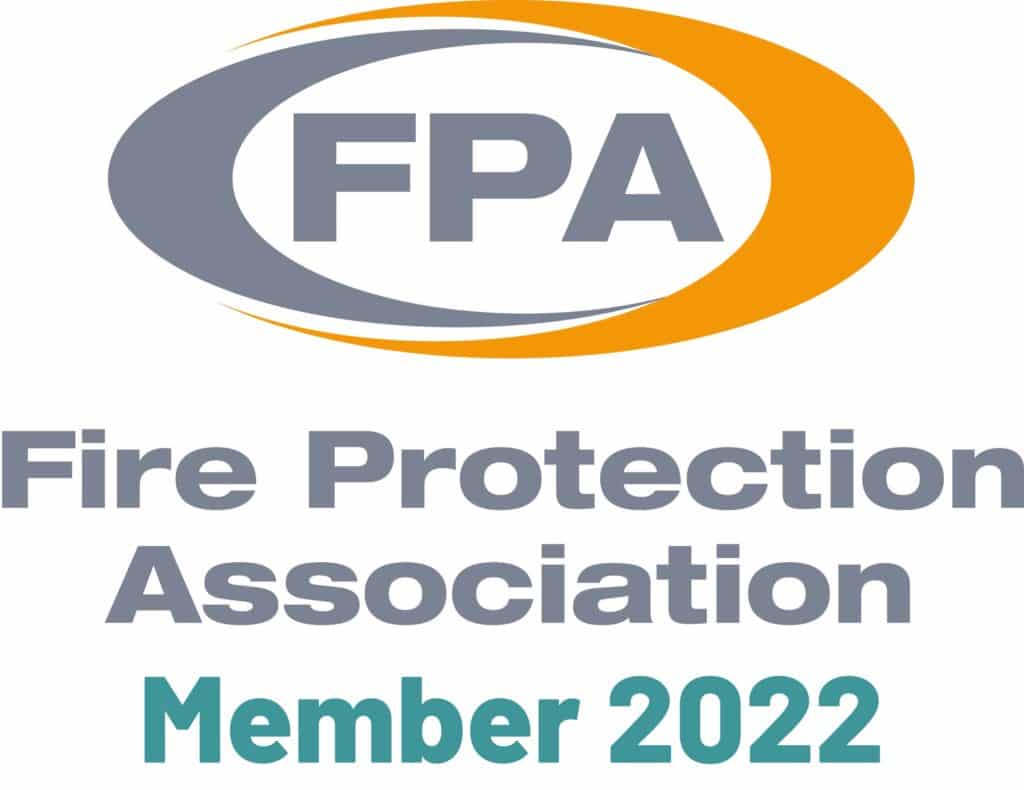 Fire Doors Save Lives – when fitted correctly
Around the edges of the door or frame will be the intumescent seal which is chemically designed to expand when exposed to extreme heat. Once a fire breaks out in a room, the heat causes the strip to expand and seal the gap around the frame in order to contain the fire-giving you enough time to escape.
The door frame to go with certificated fire doors should conform to the requirements stated on the door leaf's data sheet. Installing new fire doors into existing frames is risky because the existing frame may not be fit for purpose or compatible with the certification of the new fire door leaf. If you are installing new fire doors and components into existing frames there are a number of checks that should be made on the frame before taking the decision to only upgrade the door leaf. If it is not compatible, then certification becomes invalid. Fire door frames should be fitted into partition walls that have at least the same proven fire resistance as the resulting fire door assembly. The limitations on the size of gap that is permitted between the door leaf and the frame is extremely important and is documented on the door leaf manufacturer's data sheet. In general the gap should be between 2mm and 4mm along the two long edges and across top of the door leaf.
The ironmongery components such as the hinges, closers, locks and latches are critical to making sure a fire door performs in a fire. The ironmongery installed must be CE marked and CERTIFIRE approved and listed on the Door Fire Certificate to ensure performance. It's only when a fire breaks out that the consequences of poorly manufactured or fitted fire doors are known and sometimes it's because the wrong type of ironmongery was used.
Hinges

must comply to the annex B of the BS EN 1935. When fitted they should allow the fire door to close at any angle to which it has been opened. Ensure the hinges of your fire door are protected, intumescent hinge pads will maintain its fire rating. Fitted behind the hinges on a fire-rated door, intumescent hinge pads are designed to expand when heated, maintaining the integrity of the door and providing extra protection should a fire break out.

Closers

– Fire doors must close behind a person passing through at any angle and must be kept shut at all times. To comply with these fire regulations, fire door closers are installed on non-latched doors. Fire door closers must be CE marked.

Locks and latches

– Fire doors must remain closed Locks within the frame and therefore a latch or lock will ensure this happens. Locks and latches help provide an effective barrier to a fire, which is why they must be CE marked and comply with BS EN 12209. If you need to cut into the door to install a mortise lock, your gap should be the minimum necessary to prevent any voids where fire can enter.
For residential premises, it is advised to install fire doors where the risk is most imminent, for example the kitchen, or rooms which house lots of electrical devices. If your property is a new build, it should have been subject to regulations ensuring certain doors are fire doors – check this with the developer. As it currently stands, fire doors are only legally required in Houses in Multiple Occupation (HMOs).
For commercial or non-domestic properties, liability lies with whoever is deemed the 'responsible person' for that property or the employer. For example, the owner of the property, or the person in control of the property for trade reasons would be responsible.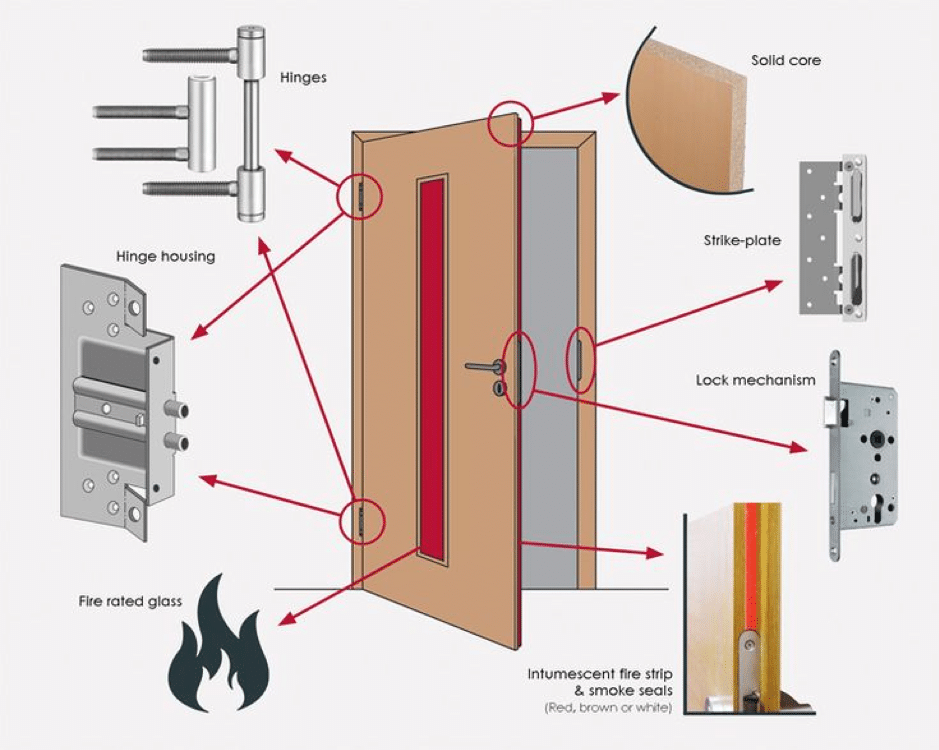 Who is RESPONSIBLE for fire doors?
(In most circumstances, if you are an employer, the owner, landlord, an occupier or have ultimate control of the premises, you are responsible for fire safety. This is known as the Responsible Person.)
Everyone involved in the life of a fire door, from its specification to maintaining it in use, is responsible for protecting property and saving lives. But all too often we rely on the next person to do his job and get it right. So how can we ensure we are all responsible.
Choosing cheaper untested products may save you money, but if a fire breaks out it will cost far more in lives and property.

Do not let cost influence your decision.

Only use third-party accredited products.

Consider using complete doorsets (the full door set including all fire rated components)

Insist on third-party party certificated doors and compatible components.

Check the label, installation instructions and certification that came with the door.

Ensure your installation team understand their responsibility and are trained to install fire doors. Consider third-party certification in fire safety and inspection.

Check the frame is the right one for the door.

Check the door closer is compatible with the door and closes on the latch in a controlled way.

Check the traceability label or identification plug the on the fire door or doorset.

Ensure the door has the correct gaps all around the door.

Make sure you check fire doors regularly.

Check hinges, closers, lock and latches etc.

Make sure staff are aware of the dangers of abusing fire doors.

Never leave fire doors propped open.
Thorough risk assessments must be carried out and it is advisable to get professional help with all fire-safety-related regulations. There is more to passive fire protection and fire safety than just fire doors; escape routes, lighting, warning systems and equipment checks are also required.
When you're choosing a door it's important to know what the different specifications mean. The FD code shows how many minutes of fire a door can withstand, for example an FD30 has been tested to withstand 30 minutes. The most common two codes are generally considered to be FD30 and FD60. 
The test procedures manufacturers use are specified in BS 476-22:1987 or BS EN 1634-1:2014.
Fire doors are engineered products that provide life and property saving functions in the event of fire. It is important that they are regularly inspected and maintained to permit them to perform at their best on the one and only occasion when they are called upon to do so.
Doorsets fitted with door closers should not be propped open. All fire doors should close effectively from any angle of opening, using only the door closer. Doorsets fitted with hold open devices or swing free type closers should be closed daily, particularly overnight when there is likely to be low building occupancy. 
There are a number of reasons why doors may fail to close:
Foreign bodies or other objects may be obstructing the door closing.

The smoke seals may be incorrectly fitted or damaged.

If a latch is fitted, it may be malfunctioning and require a replacement or it may just require lubrication.

The closing device may need adjustment but this must only be done as a last resort and very carefully, to ensure that the door can be opened without undue force.

Intumescent seals should be checked regularly, at intervals not greater than 6 months, and damaged or missing ones replaced. To maintain the designated performance potential, replacement seals should be of the same brand, size and type as the original. Any intumescent seal of the same size as the original, however, is better than none.

Mechanical items such as hinges, locks, latches, closers, floor springs etc are likely to wear over time. Maintenance provisions should comply with the hardware supplier's recommendations where these are known. Replacement of any door ironmongery should be CE marked and CERTIFIRE approved and listed on the Door Fire Certificate to ensure performance. Locks and latches may require occasional light lubrication.

Some hinges use self-lubricating bearings that will not need additional lubrication.
Any slight alteration to the door or its surroundings can affect the performance. As such, a fire door should be regularly checked to ensure it functions correctly and will perform to its designed standard in the event of a fire. Nothing must be cut at the top at all and the certification label must remain intact. At the sides, small adjustments of 1 to 3 mm are usually permitted. However, this amount varies with each fire door model and you need to ask the manufacturer for the maximum amount before starting to remove material.
Is your door a fire door?
Older panel doors, especially if less then 44mm thick, are unlikely to be FD30. 
Hollow flush doors using egg box or similar construction will not be FD30. This can be detected by the weight of the door, because fire doors are much heavier than a hollow door. 
Fire doors will have automatic closing devices (fire door closers) fitted. Spring-loaded self-closing hinges and concealed closer with chains might also be in evidence.
Because of the weight of a fire door and to prevent it warping, fire doors are usually fitted with three fire door hinges. The current BS EN standard does, however, allow two hinges in certain circumstances. There may be documentation that was supplied with a fire door giving you all the necessary information. Unfortunately, as there is no standard method of identifying fire doors other than the Q-Mark or the CERTIFIRE fire door schemes, insisting on written proof that a door meets all the necessary standards, for example a test certificate, might still be necessary.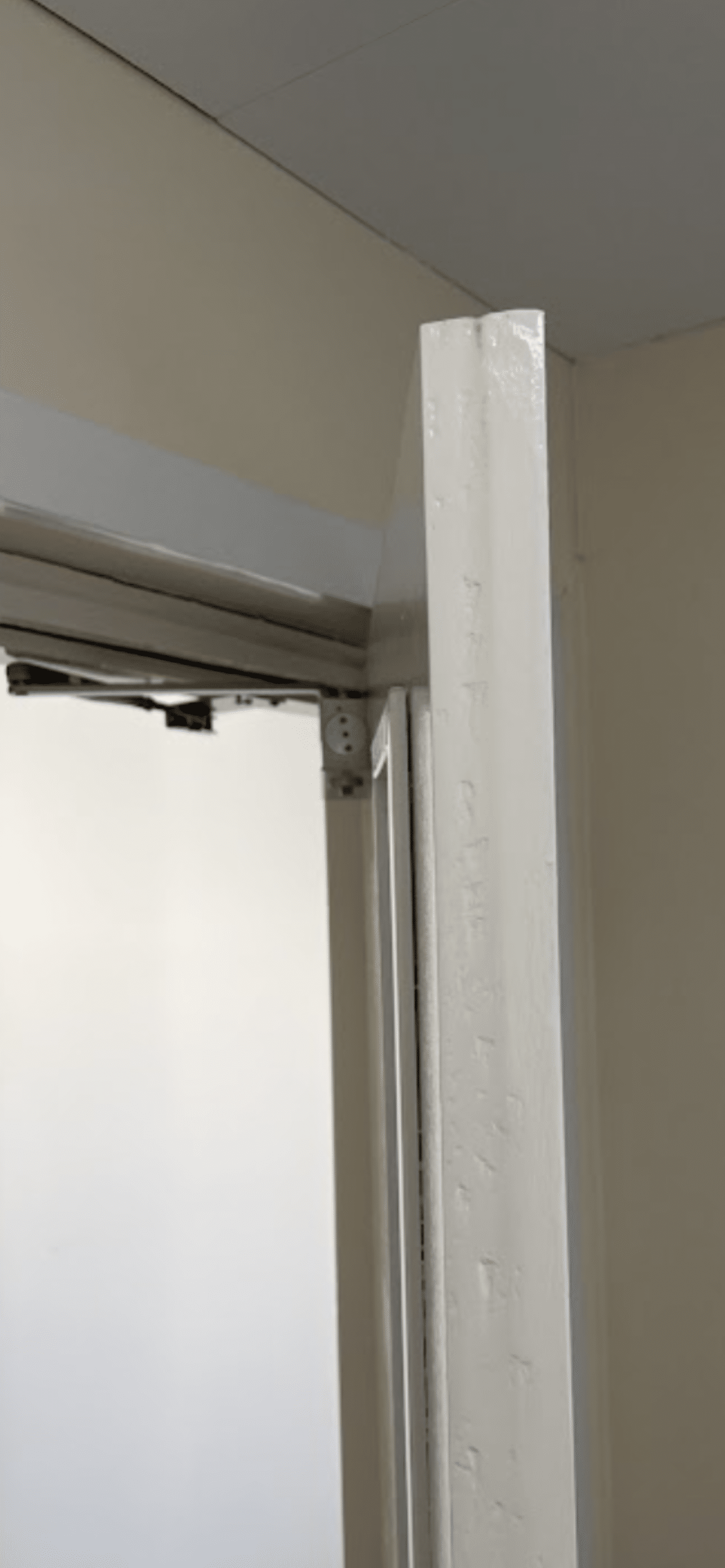 The photograph above shows a fire door for a communal area in a apartment block that was delivered to site too large to fit into the frame.
The installer decided to cut it down at the top, removing the hardwood lipping, intumescent strips and label. This action invalidated the fire door certificate and hence the door was no longer a fire door. Unfortunately in this instance there were over 25 doors installed in this way
It is statutory requirement that a full inspection and survey is carried out on your fire doors to ensure compliance and provide life and property saving functions in the event of fire.
How often should I have my fire door inspection?
Depending on the type of building you are responsible for and who occupies it will influence the frequency of fire door inspections required. Some buildings, such as hospitals and schools and are subject to heavy traffic. BS9999 recommends six monthly inspections and includes guidance on some of the main inspection criteria. Where the fire door is in high use, it should be checked more frequently than other doors in the building. E.g. once per week/month.
What the law says.
Article 17 of the Regulatory Reform (Fire Safety) Order 2005 (RRO/FSO) makes it a legal requirement to ensure that fire resisting doors and escape doors are correctly installed and adequately maintained in order for them to be fit for purpose.
The Regulatory Reform (Fire Safety) Order 2005, often referred to as the RRO or FSO, applies to all buildings other than domestic housing, and replaces 118 pieces of previous fire legislation, including the old fire certificate. The law now shifts responsibility from the fire authorities for fire safety to whoever has day-to-day control of premises.
The authorities have the power to enforce the RRO/FSO and do prosecute or even close buildings down where breaches are discovered.
CGT Ltd Fire Door Inspections
All CGT Fire Inspections are carried out by qualified carpenters. Carpenters that are experienced in installing fire doors have a wealth of experience in the correct installation of fire door sets. They can complete invasive checks on door frames without causing any damage to the door set.  
The correct specification, supply, installation and maintenance of a fire door are critical and CGT Ltd can offer the full package. Our qualified, experienced fire door installers have all completed various fire inspection training. Understanding how to install a fire door 'correctly' enables us to look beyond the fire door and give you a true inspection report on your Fire Door Components. We don't just come out and look at Fire Doors – we look at the full set, how they have been installed, and whether they are compliant and fit for purpose.   
What do we inspect?
The condition of the fire door set, to include the door, the frame and ironmongery.

Check the gaps between the frame and door including the bottom of the door threshold

Assess the door closing including and closer.
Check the suitability and condition of intumescent fire and smoke seals.

Complete a glazing assessment by confirmation of glazing etchings or notional assessments, including door and surrounding glazing.

Assessment of correct fire door signage.

Check for evidence of current fire door certification. In the absence of any certification or door markings visible on the top of the doors the doors will usually be reported as non-complaint and therefore require replacing.
In the case of new buildings, or those which include alterations, extensions or change of use, the appropriate Building Regulations apply.
Existing buildings, other than domestic properties, are governed by the requirements of the Regulatory Reform (Fire Safety) Order: 2005 – otherwise known as the RRO or FSO. The Regulatory Reform (Fire Safety) Order 2005 (legislation.gov.uk)
You should also take note of Regulation 38 of the Building Regulations (England and Wales) which links the Building Regulations to the RRO for those buildings to which the RRO applies.
Changes in Fire Regulations – Fire Safety Act 2021
The Fire Safety Act (2021) has now received its Royal Assent, placing further accountability on businesses 'Responsible Persons'.
The act applies to all multi-occupied residential and commercial buildings and requires all Responsible Persons to assess, manage, and reduce the risk of fire posed by the structure and any common parts of buildings.
Following the Grenfell Tower tragedy in 2017, the existing fire safety legislation has been heavily debated and criticised, with public attention encouraging an upheaval to keep residents, and visitors of residential and commercial spaces, as safe as possible from the deadly risk of fires. With the new act introduced by the Home Office in April 2021, it is now well on its way to becoming enshrined in law. But, how can residential and commercial teams tasked with this responsibility best prepare for the incoming legislation? With the act tipped to become law in early 2022, what can Responsible Persons do now to prioritise safety and security throughout their fire prevention strategy?
Update any fire risk assessments.

Install fire doors between resident properties and communal spaces.

For commercial property, physical barriers that prevent the spread of fire and smoke are essential.

Perform regular fire alarm checks.

Regularly review and maintain fire doors and fire escape routes.
'CGT completed remedial work on our fire doors within school to ensure they are compliant. They are now working with us on a capital program to replace all old door sets with new compliant fire door sets.'